Time was, about twenty years ago, Canadian universities didn't spend money on university athletic scholarships.  Then things changed and universities turned on the taps.  Today we ask the question: "how's that going for everyone"?
Well, it's not going too badly, if you're an athlete.  Just under 5,830 students received athletic scholarships totalling $15,981,189 in 2013-14 – that's a little over $3,000 a pop.  CIS officially recognizes twenty-one sports, nine of which have teams for both genders (eighteen total), plus football which is male-only and rugby and field-hockey which are female-only.  However, roughly 85% of the scholarship dollars are concentrated in just nine sports, as shown below in Figure 1.  Some have almost no scholarships at all: inter-collegiate curling, for instance, has only 16 scholarships nationally for both sexes.
Figure 1: Top Sports by Scholarship Expenditure, 2013-14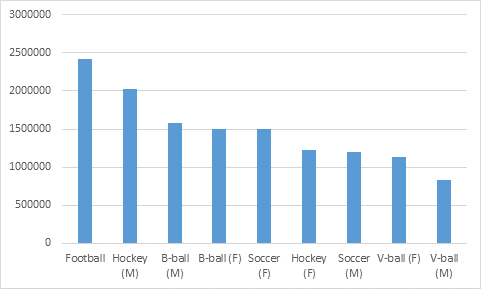 What's interesting here is that over time, the amount of money spent on Athletics scholarship has been rising quickly and steadily.  Even after accounting for inflation, Canadian universities spent nearly three times as much on athletics scholarships ($16 million vs. $5.8 million) in 2013-14 as they did ten years earlier.  It's an interesting choice of expenditure by allegedly cash-strapped institutions.
Figure 2: Total Athletics Scholarships by Gender, 2003-4 vs 2013-4, in constant $2014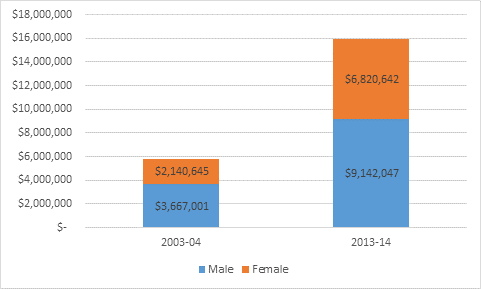 I suspect most institutions would probably defend it as a kind of strategic enrolment investment, much the way they defend other kinds of tuition discounting.  I mean, does it really matter if you give someone a $5,000 academic entrance scholarship or a $5,000 athletic scholarship?  They're both forms of tuition discounting.  And of course, the absolute amounts are trivial.  $16 million is only 1% of the total amount of funding given by universities to students (if you include funding to graduate students).  And if you want into get into truly ludicrous comparisons, it's less than what the University of Michigan spends on salaries for its football coaching staff.
A final point to make here is around gender equity.  Male and female athletes receive awards at roughly the same rate (45% of athletes of each gender receive an award), which is good.  However, imbalances remain in terms of the number of athletics spots for men than women (53% of all athletic team spots are male, compared to about 41% of undergraduates as a whole), and in terms of the size of the average award ($3,286 vs. $2,737).  Those results are better than they were a decade ago, and they appear to be slightly better than they are in the US, where actual legislation exists in the form of Title IX to enforce equity in sports, but they are still some ways from equal.