It's been a long time since I've been as disappointed by an article on higher education as I was by the Star's coverage of the release of the new HEQCO paper on teaching and research productivity.  A really long time.
If you haven't read the HEQCO paper yet, do so.  It's great.  Using departmental websites, the authors (Linda Joncker and Martin Hicks) got a list of people teaching in Economics, Chemistry, and Philosophy at ten Ontario universities.  From course calendars, Google scholar, and tri-council grant databases, they were able to work out each professor's course load, and whether or not they were "research active" (i.e. whether they had either published something or received a tri-council grant in the past three years).  On the basis of this, they could work out the teaching loads of profs who were research-active vs. those who were not (except in Philosophy, where they reckoned they couldn't publish the data because there simply weren't that many profs who met their definition of being research-active).  Here's what they found:
Annual Course Load by Research Active Status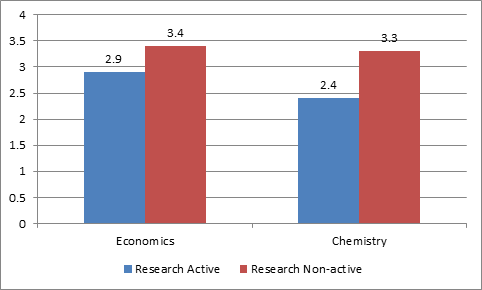 To be clear, one course here is actually a half course.  So the finding that "non-research-active" professors teach less than one course extra means that there are, in fact, a heck of a lot of non-research-active profs who teach no extra courses, and who teach exactly the same amount as professors who are research active.
For reasons of fairness as much as  productivity, this seems like a result worth discussing, no?  And yet – here's where the disappointment comes in – that doesn't appear to be where the main actors in this little drama want to go with the story.  Rather, they appear to want to make irrelevant asides about the study itself.
Now I say "appear" because it's possible they have more nuanced views on the subject, and the Star just turned the story into a he-said/she-said.  I want to give them the benefit of the doubt, because the objections printed by the Star are frankly ludicrous.  They amount to the following:
1)      Teaching involves more than classroom time, it's preparation, grading, etc.  True, but so what?  The question is whether profs who don't produce research should be asked to teach more.  The question of what "teaching" consists of is irrelevant.
2)      Number of courses taught is irrelevant – what matters is the number of students taught.  This is a slightly better argument, though I think most profs would say that the number of courses is a bigger factor in workload than the number of students (4 classes of 30 students is significantly harder than 3 of 40).  But for this to be a relevant argument, you'd need to prove that the profs without a research profile were actually teaching systematically larger classes than their research-active counterparts.  There's no evidence either way on this point, though I personally would lay money against it.
Here's the deal: you can quibble with the HEQCO data, but it needs to be acknowledged: i) that data could be better, but that it is institutions themselves who hold the data and are preventing this question from being examined in greater depth; and, ii) that this is the one of the best studies ever conducted on this topic in Canada.  Kvetching about definitions is only acceptable from those actively working to improve the data and make it public.  Anyone who's kvetching, and not doing that, quite frankly deserves to be richly ignored.