So, everyone seems to be getting very upset about the Government of Alberta having cut budgets by 7%.  Of course, cuts are always very painful, but I think it's worth stopping to consider the government's perspective on this issue, which I think boils down to this specific graph:
Figure 1: Provincial Government Expenditures per FTE Student, Selected Provinces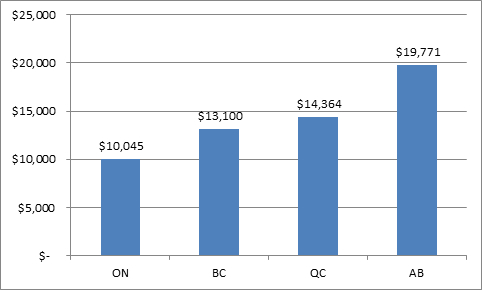 (Since I know some of you will ask: Data is StatsCan, drawn from the 2012-13 CAUT Almanac: Provincial expenditures are from 2008-09, Table 1.3; Student numbers are from 2009-10, Table 3.2.  Yes, the numbers are a bit old – we can only do so much with StatsCan in its given state – and slightly more up-to-date numbers would change specific figures in each province. But they wouldn't change the basic picture, which is that government $/student in Alberta is about 40% higher than in Quebec, 50% higher than in BC, and close to double what it is in Ontario).
So, if I'm the Government of Alberta, and looking at the fact that the Americans have worked out this shale gas thing, and the main prop of the provincial budget has gone all pear-shaped, and I'm contemplating the question, "where can I save some money", you'd have to conclude that, in fact, universities – indeed, PSE generally – are one heck of a tempting target, no?
I mean, what's Alberta buying for that extra money, exactly?  Slightly better-paid profs, which allow them to recruit better staff.  Somewhat lower teacher-student ratios, which is also good.  Lower tuition fees, for sure.  But they could probably do all that almost as well with $1300 or $1400 less, per student – especially true since per student funding would have to drop by about 35% before Alberta would find itself anywhere near the national average.
So are Albertans just whiners?  Well, no. See, the thing about university finances is that they're supremely inflexible.  Salaries and benefits make-up about 50% of all spending, and dumping salary quickly is damn near impossible; it's even harder if you've just negotiated a contract with staff, guaranteeing raises of 2-3% over the next four years.  If you can't touch that, then a 7% cut quickly becomes a 14% cut in non-salary areas.  That's pretty brutal, even if you are starting from a very high base.  And in Ontario, at least institutions can partly offset cuts through tuition – something Alberta institutions were forbidden to do.
There's no question the Alberta universities are undergoing a wrenching change – the biggest, in fact, since the Bouchard government dropped the boom on Quebec universities in 1997.  But at the same time, let's keep in mind how lucky Alberta universities are to begin with.  There isn't a single Ontario university that wouldn't beg to switch places with them.