The theory that rising tuition affects access rests on one of two premises. Either the rise in price is leaving students liquidity-constrained (that is, they don't have enough cash on hand to meet the costs) or they have decided the investment is no longer "worth it." If the only issue is liquidity constraint, then the problem can be solved with student loans, but since anti-tuition types rarely make that argument, one has to assume that what they believe is that students drop out or avoid PSE because they don't think it is "worth it."
The "worth it" argument is best summed up through the handy little graph below, first sketched by Nobel prize-winning economist Gary Becker. Becker's theory basically says that people decide on making human capital investments by comparing the short-term costs – tuition (C) plus foregone income (B) – to the long-term income benefits (A) that come with higher education. Nothing says that students have to be able to accurately measure A, B and C for this to work; just that whatever the approximations the students are using for costs and benefits, A must be larger than B plus C or a student will not attend.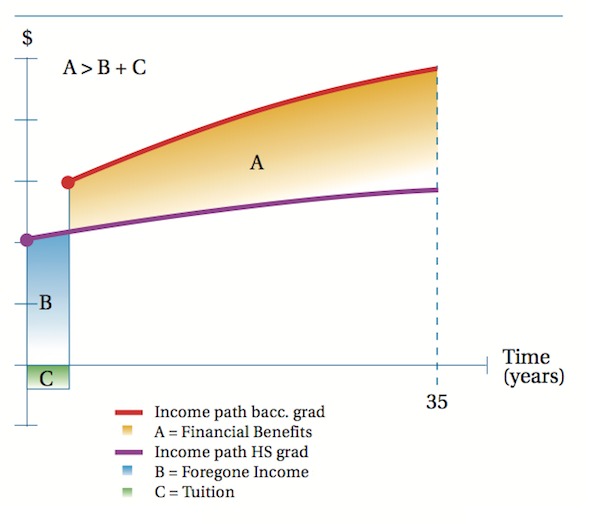 Human Capital Theory makes some testable empirical predictions, such as the one that older students (who have much less time to recoup their investments) are much more likely that younger ones to respond to an increase in tuition by dropping out or choosing not to pursue higher education. This prediction was spectacularly borne out in the U.K., recently, when a tripling of tuition fees barely affected 18 year-olds, but reduced older applicants by 20% or so.
So, HCT works, right? Tuition increases, if they are significant enough, can affect enrolment. Well, yes. But look at what the theory also implies: that increases in foregone income will have the same effect as increases in tuition. Or, to put it more bluntly: a rise in minimum wage should have the same effect as a tuition increase in terms of deterring access.
This kind of makes sense. We sometimes talk wistfully about how easy it was for our parents' generation to afford education – how they could easily earn a year's tuition in a summer of working on the roads or in construction, or what have you. But maybe that's one of the reasons access was so much weaker then than it is now: if wages and foregone earnings are high, what would have been the incentive to go to school?
So, just remember: if you're anti-tuition fees because deter access, you should also be against raising the minimum wage because the effects on access are the same. Look for that message on the CFS's next press release.