Morning all.  Hope you've been well.
During the US election and its aftermath, a lot of the discussion has focused on the issue of education.  Specifically, many pollsters noted large shifts in favour of the democrats among college-educated whites and even larger shifts rightward from less-educated whites.  Trump's statement in June that he "love(d) the poorly-educated" was in retrospect quite significant.  From this, many on the left have deduced that "education is more important than ever", a statement which is almost perfectly calculated to feed every piece of Republican paranoia about leftist indoctrination (and hence likely to make higher education a real target in the 25 states where the Republicans control both houses and the Governor's mansion).
But I think there's an important caveat to the education story.  Check out the map from NYT's excellent The Upshot, which shows in green the counties which showed the biggest democrat-to-republican shift between 2012 to 2016.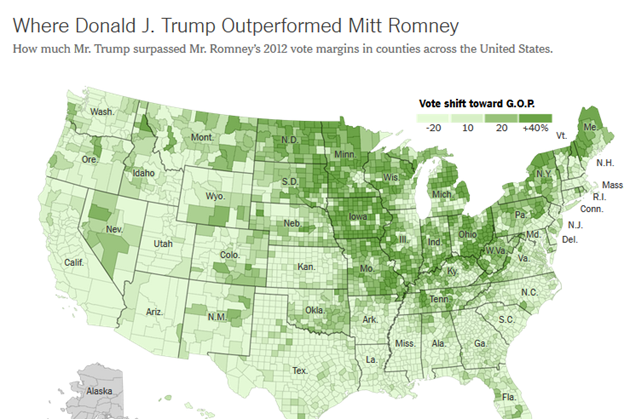 If there was an education issue at work here, it was a pretty particular one – one which seems to have manifested itself mostly around the Great Lakes.  It's the rust-belt, more or less.  Places where the economy has been in either relative or absolute decline for 50 years or more.  It's not about trade deals; think back to movies set in this area from the 1970s like Slapshot or Breaking Away.  When this area complains about the economy, it has little to do with Obama's policies or even trade deals. These places were already in deep trouble long before anyone even dreamed of NAFTA. This is about communities that have been falling apart for 50 years.
In the region's glory days, it was one of the wealthiest regions of the entire globe.  And during that period, it had an unbelievably low education-to-wealth ratio; maybe the lowest of any place in the world, at any time.  Higher Education?  Who needed it, when well-playing manufacturing jobs were a dime a dozen.  Human capital was for suckers.  And that, unfortunately, is an attitude which has endured.
Times changed, of course.  Underinvestment in capital put paid to the steel industry, titanic incompetence the auto industry, while energy costs reduced the competitiveness of pretty much every other sector.  Result: de-industrialization.  There's nothing unique about this process.  It's happened in many places around the world Flanders, Lancashire, Eastern Germany.  What's unique about the US rust belt is mostly how rich it was before the fall.
There was a lot of post-election commentary about how the Rust Belt's swing to Trump was really a way of saying "we're upset because no one listens to us" but that's not strictly speaking true.  People listen.  It's just that literally no one knows how to effectively reverse de-industrialization.  Americans have it worse because for a variety of reasons (most of them rooted in racism) they lack much in the way of a social safety net.  And as American scholar Toney Carnevale is fond of saying, when a country lacks social programs, education actually becomes the safety net.
But there's a problem with that.  In declining economies, education is no guarantee of a job because hiring is low.  So the ones with education leave (to California, say, or New York) leaving the remaining population with lower average skill levels, thus making economic regeneration even harder.  People come to see education as a vehicle for personal salvation, but also potentially as an agent of community destruction because while they are creating human capital, they are also priming it for export.  I'm sure many readers in Atlantic Canada will know that feeling.
And to top it off, you have to remember that what people in the area really liked about the old days wasn't just the middle-class jobs, but the fact that mental toil wasn't necessary.  JD Vance, in his recent book Hillbilly Elegy (this fall's de rigeur read for those wanting to "get" Trump voters) notes with some sorrow that the people of his home communities in Ohio and Kentucky lack much in the way of desire for self-improvement through education.  "We don't study as children and we don't make our kids study as parents," he says. "We hillbillies need to wake the hell up".  That awakening may happen, but it didn't on November 8th.  In the key states that swung the election, Trump's promise to "Make America Great Again" was taken up by the people with the subtext "We Want Jobs That Don't Require College Again".
In short: more education, on its own, won't solve the problems of de-industrialization.  And even if that weren't true, it's not clear that more education is a medicine everyone wants to take.