OK, apparently this week I'm going to have to talk about skills shortages, because it seems that people in Ottawa have LOST THEIR EVER-LOVING MINDS on the subject.
The basics of the policy discussion are as follows: Canada currently has an unemployment rate of about 7.5%, which is deemed too high.  Despite there being roughly 6 unemployed people for every job vacancy, there are some jobs which are going unfilled because of skills shortages.  This, everyone can probably agree, is a Bad Thing.
Conventional wisdom would suggest that the problem is a lack of aggregate demand – that is, a lack of jobs.  But there is an increasing drumbeat saying that the problem is one of aggregate skills – or, a "skills mismatch".
So, which is it?  A jobs challenge, or a skills challenge?  And if it's the latter, what kinds of skills are missing?
One way to look at the tightness of labour markets is to look at the ratio of unemployed-to-job openings.  Statistics Canada has been measuring this over the last couple of years, and here's what they've found:
Ratio of Unemployed-to-Job Openings, by Province
The major determinant of unemployment is, as it always has been, regional economic disparity.  Everywhere outside the Prairies, the ratio of unemployed-to-job openings is over 6-to-1; the idea that skills mismatches are in any way driving unemployment in these areas stretches credulity.
That doesn't rule out the skills mismatch hypothesis in other parts of the country, though.  But what kind of skills mismatch is it?  Is it true that, as one Conservative source allegedly said, "we have too many BAs and not enough welders"?  That's a common meme, stemming in no small part from the constant rhetorical confusion between "needing more skilled workers", and "needing more workers in the skilled trades", which is not the same thing at all.
This can be easily verified.  Recently, CIBC put together a nice little report, which listed the 25 occupations showing signs of a skills shortage over the next few years.  Here they are, in the table below, listed in no particular order:
25 Occupations Showing Signs of a Skills Shortage (Source: CIBC)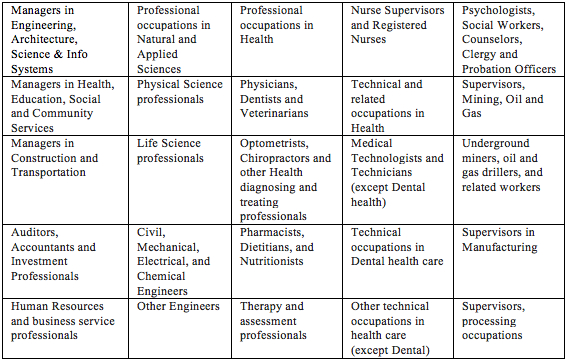 Maybe five of those require apprenticeships; most of the rest require university degrees.  True, only one relates to BAs, but that suggests a need to put more money into expensive STEM problems, not shift students out of universities altogether.
But this isn't the line we're hearing right now from elected representatives.  Why, exactly, is that?  More on this tomorrow.