You may have read recently about how Canada is really sticking it to junior researchers.  Dalhousie's Julia Wright recently wrote about Canada haemorrhaging early-career research capacity and she has a point – just in the last seven years, the proportion of Canadian faculty aged 40 or less has fallen by a third, from roughly 22% to just over 15%.
The question, of course, is "why"?  Some – including Wright – just blame a "shrinking academic labour market", which tends to (either by accident or design) play into a narrative of "terrible neo-liberal governments/university administrators not spending on academics".  But this simply isn't true: total spending on academic compensation rose 12% after inflation between 2010-11 and 2015-2016, and in fact the number of full-time academic staff at Canadian universities has increased by 1.6% since 2010-11.  Some simple math tells you that by extension, pay per full-time academic staff increased by about 10% after inflation over those years.  That's money which, in theory, could have been spent on hiring more staff.
And there's a very specific place where that money is being spent.  It's on profs over the age of 65.
Take a look at Figure 1, which shows the age profile of academic staff at intervals between 2002 and 2017 (data is from Statscan's UCASS survey, except for 2014 when it is from the National Faculty Data Pool).  At most points along the curve, the distribution looks pretty similar in every year – until you get to the over 65s.  And here there's been an absolute explosion in numbers over the past few years.  In 2002, they were less than 2% of the (much smaller) professoriate; the most recent UCASS data suggests that this year they make up 10.3% of total professoriate.
Figure 1: Age Distribution Profile of FT University Academic Staff, Canada, 2002-2017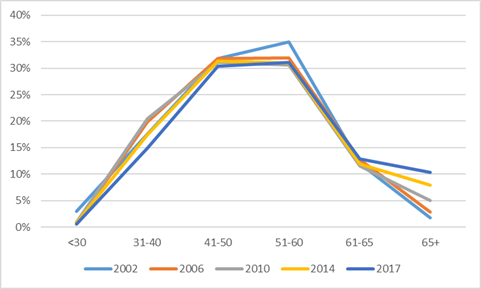 Again, just do some simple math.  The over 65s, by and large, get paid substantially more than the average academic.  We don't know exactly how much more, but a fair guess, based on both salary and (much more heavily used) benefits, it's probably about 50% above average.  That implies that about 15% of academic compensation – or about $1.3 billion/year is going to over-65s.  Compare that to the approximately $148 million that universities were spending on the same population fifteen years ago.
Figure 2: Estimated Compensation Devoted to FT Academic Faculty 65 Years of Age and Up, 2001-02 vs. 2016-17 (in millions)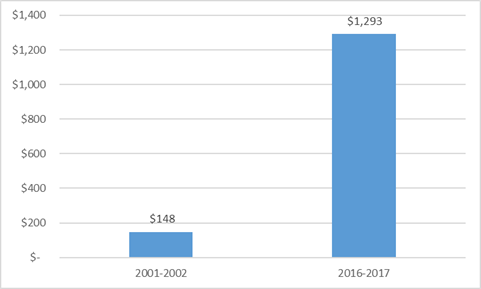 That's a nine-fold increase. A billion-plus-dollar increase.  And you know what they say – a billion here, a billion there, pretty soon you're taking real money.
Now, there's nothing intrinsically wrong with employing older faculty.  No one magically loses energy and vitality and a sense of engagement when they hit the age of 65.  But, first, there are opportunity costs – that $1.3 billion could be used to hire an awful lot of new faculty (roughly 10,000 or so, by my count).  And, second, I think if you polled academic staff, while they would agree that over-65s can make great contributions, they would also tell you that over 65s are probably somewhat more likely than average to be coasting.
Of course, thanks to the end of mandatory retirement, there's isn't a whole lot anyone can do about this. Nowadays, staff can't be asked to retire even once they are past the age (71) when they are legally required to start drawing their pensions, meaning they draw both their salary, and their institutional pension, and their public pension, plus whatever they have in their RRIF.
In theory, it should be possible to nudge some faculty out – especially those over 71 – by instituting measures which are related to length of employment but not to age per se because that's verboten.  Say, sticking lifetime limits on sabbaticals, or requiring higher teaching loads for individuals who have been employed for more than 30 years.  In theory, this should be to the benefit of both academic staff and management, especially if accompanied by provisions guaranteeing a certain number of new hires with the proceeds from any retirements.  At the very least, it's something that needs to be on the table.  Faculty renewal depends on it.