The week before last, Deloitte – that redoubtable home for "Big Thinking" management consultant types who are nevertheless not big-enough-thinking for McKinsey – released a paper entitled The Intelligence Revolution: Future Proofing Canada's Workforce.  To call it as dumb as a bag of hammers would be deeply unfair to hand tools.  Do you remember Otto, Kevin Kline's character from A Fish Called Wanda?  The one who thought he was an intellectual despite his evident vacuity?  This paper is the literary embodiment of Otto.
Let's ignore the merely puzzling infographics, like this one where the visual bears no possible relationship to the underlying data.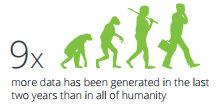 And let's also ignore the graphics, which imply that  the "Workforce-ready Canadian" looks like one of the aliens from the movie Mars Attacks! but who knows, really?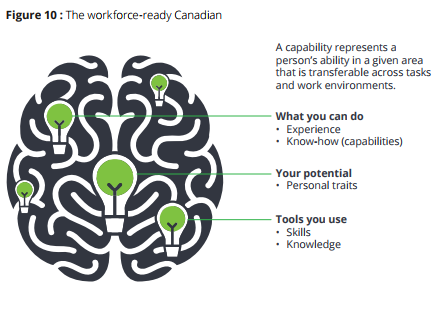 Let's go straight to the graphic meant to show that EVERYTHING IS CHANGING AND WE MUST ALL CHANGE TOO LIKE RIGHT NOW.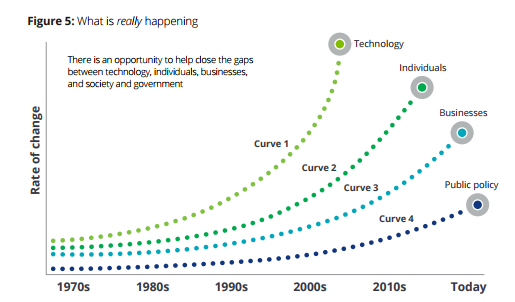 Ok so if I understand Deloitte correctly, "what is really happening" (honestly, who titles a graph that way?) is the following:
On the x-axis, "today" is as far from the 2010s as the 2010s were from the 2000s.  That is to say, we are sometime in the 2020s.  Or possibly this paper comes from the future, I'm not sure.
"Technology" never made into this decade, having asymptotically approached a rate of infinite change about ten years ago (or twenty if in fact we are in the future).
Deloitte for some reason thinks it can be taken seriously while producing graphic atrocities that would get failing marks in 8th grade social studies
Did I mention that the Government of Ontario actually paid money for this?  From the production values I'm guessing it was well into six figures.
Anyways, after a whole bunch of unconvincing "this time is different" waffle, the report goes on to classify all workers into one of nine categories, such as "protectors" (health & some social services, plus police), "influencers" (including the classic job category "incubator relationship manager"), "Innovator", "Integrator", "Performer", and so on and so forth.  I am genuinely unsure what this typology is in aid of because it doesn't translate into policy and doesn't figure in the report's actual recommendations, but I guess it looks pretty and was sitting on someone's metaphorical shelf at Deloitte, so they threw it in.
And finally we have the conclusions, helpfully segmented into what governments/businesses/individuals can do.  Among the incredibly helpful ideas here are "Adopt a bold, focussed approach to capitalize on Canada's strengths" (which seems to mean "superclusters" plus some odd notion of "competitive federalism" which could only have been written by someone who has literally no idea how Canadian federalism works); also, there is a recommendation to "reimagine Canada's education system" which is exceeded in its vapidity only by its superficiality.
Curious what kind of intense research Deloitte did to come to these conclusions?  Well, there's a list of interviewees at the back, which is actually quite hilarious.  Roughly half of the "experts" interviewed are Deloitte employees, and most of the rest work within a five-block radius of Queen's Park (U of T, Ontario Public Service, MaRS, etc).  This strikes me as an extremely narrow sample, vulnerable to herd mentalities and group think, but hey I guess if you're inside the bubble none of that matters.
Again, the Government of Ontario actually paid money for this.
I could go on, but you get the picture. It is a terrible document which should not occupy a moment of anyone's time other than as a cautionary example of form over substance. The problem is that it is pitched at Ministers with pretensions of being on the cutting-edge of economics and social policy but who in fact have very little grounding in either (I can think of a few who match this description, I'm sure you all can too).  And if the metric of success of a document like this is "can I get people in positions of power to swallow this bilgewater and give me more contracts to follow-up on the ideas contained herein"), then I worry that this might be a very successful document indeed.
Anyways, this isn't the first piece of buzzword-laden charlatanry about the future of the labour market produced by a big consulting form and it certainly won't be the last.  Just remember: when a consultant starts talking about "exponential change", hang on to your wallet.