On Saturday, I spent a lovely morning at Mount Allison talking to their Board of Governors.  Afterwards, I scooted across the Nova Scotia border to Amherst, which is home to Amy's, one of Canada's most remarkable used bookstores.  There I found a host of historical higher ed treasures (had to make a quick trip to Giant Tiger to buy a bag to get them all on the plane home), the most amusing of which was Linda Frum's Guide to Canadian Universities, which – to the utter horror of the Canadian university sector – was published 30 years ago last month.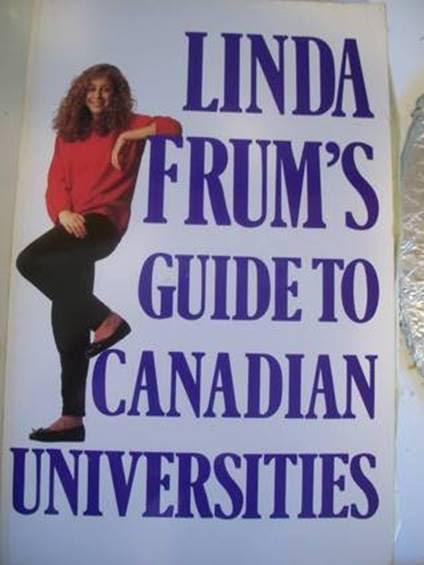 If you weren't there in the late 1980s, you'll have no idea about this book or its impact.  It was a bible for hundreds of thousands of university-bound kids.  Pre-internet, pre-rankings, how else could you find out about ALL THE UNIVERSITIES in one convenient place for the low price of $14.95?  And, packed as it was in bitchy, knowing sarcasm, it felt like it was delivering the straight dope in a way that no metrics-laden ranking exercise ever could.  Not that Frum's dope was necessarily accurate.  Her research mostly consisted of spending a day on each campus and chatting to one or two senior admins and clutches of undergraduates over lunch in a cafeteria or java in a coffee shop.  Superficial, sure, but hundreds of times more informative than anything else available at the time.
Now, there is lots wrong with this book.  Its mere existence is an indictment of the closed nature of Canadian publishing (who asks an unknown 24 year old to write a major book and name it eponymously unless they are the offspring of a famous broadcaster?).  And it carries a huge whiff of Toronto snobbery, particularly towards smaller universities.  But in its way, it's genius, and a quick re-read today is worth an hour or two of your time, for three reasons.
The first is that as a period piece it captures some aspects of university life that we've nearly completely forgotten today.  The most interesting one has to do with entrance averages, which were clearly – contrary to the way most people seem to remember it – a whole heck of a lot lower then than they are now (the description for York, for instance, ends with "if you want to live a little, and you can afford it, you'd be smart to take your 70 to Acadia, St. FX, Dalhousie, Memorial, UNB or Trent.")  The occasional comment about having to wait a month to see first-run movies in Halifax, or the pulling power of student unions to attract up-and-coming music acts (Billy Idol played Brock Student Union?) speak to a very different, pre-Internet, entertainment culture that is mostly forgotten.
The second is that while the book is very often completely unfair (not surprisingly given its research methods), it is nonetheless hysterically funny.  No one write this way about higher education any more, and it's a shame because it's very engaging to the non-specialists.  My favourites:
"When people say McGill is a great institution, they really mean is that Montreal is a great city. Put McGill in Tuktoyaktuk and they wouldn't be quite so enthusiastic"
"Queen's students are absolutely head over heels in love with their school, not to mention themselves".
"If only to keep up appearances, Western has a faculty"
The third and final reason to re-read it is to reflect on what has and hasn't changed in Canada in thirty years.  Change the names of which on- or near-campus bars and restaurants are "hot", and double (or in some cases triple) the enrolment numbers at each university, and a lot of this book still seems pretty accurate, which speaks to how durable institutional cultures and reputations are.  That said, some things do change: I'm pretty sure Acadia is no longer the preppy haven it was in 1987, and the description of UBC is completely jarring ("Before OPEC, no matter what UBC did it couldn't help being the best school west of the Ontario border; now, UBC is a great Canadian university on its way down…the best professors and graduate students are deserting to accept higher salaries over the Rockies").
One thing I really remember from that time is how much universities hated the book.  The principal criticism was that it was too subjective.  If only we could have some *real* analysis of institutions – you know with facts and data and stuff.  Four years later, Maclean's came out.  Universities hated it.  Didn't contextualize institutions enough.  Moral of the story: there's no way to both compare universities and make them happy unless you conclude they are all brilliant.  Worth keeping in mind when reading criticisms of institutional comparisons.
And do read Linda Frum's Guide to Canadian Universities if you can find a copy.  An entertaining trip down memory lane no matter what you think of it.