If there's one common complaint among academic staff it's that non-academic staff… administrators… are multiplying like weeds, and taking over the university.  Of course, no one can tell if this is actually happening because Canadian universities have never bothered to put together any common statistics on non-academic staff.
What we do have, though, is data on non-academic staff compensation – that is, we can see how much non-academic staff were paid in any given year, and track that over time.  We can then compare that to how much money was spent on academics.  These changes in compensation ratios are a reasonable indicator of changes in staffing levels, even if we don't know exactly how many people are employed in these positions.
Going back to 1979, the ratio of academic to non-academic staff compensation looks like this:
Figure 1: Ratio of Academic to Non-Academic Staff Compensation, 1979-2011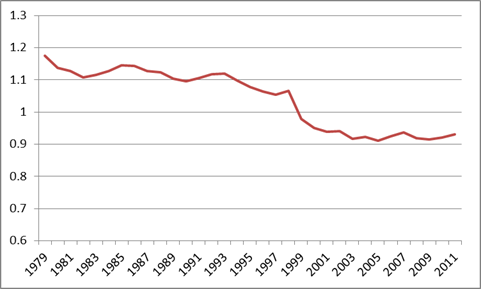 Source: CAUBO/Statscan Financial Information of Universities and Colleges Survey
What Figure 1 means is that, whereas in 1979, total academic salary mass was 17% higher than non-academic salary mass, by 2011, it was 7% lower.  Interestingly, there's actually been no change at all in the past decade: the ratios have remained essentially stable since about 2000.  Before that, they fell gradually for about 20 years (the apparent huge fall in 1999 was the result of a change in the survey that – as I understand it – brought academic salary mass more fully into the picture, which obviously would have a negative effect on these ratios.  So in fact, about a third of the change seen here is actually just the result of a series break).
Of course, averages are one thing – but they can hide a heck of a lot of variation between institutions.  Here's the distribution of non-academic to academic salary masses for 2011, across all institutions:
Figure 2: Distribution of Academic : Non-Academic Salary Mass Ratios by Institution, 2011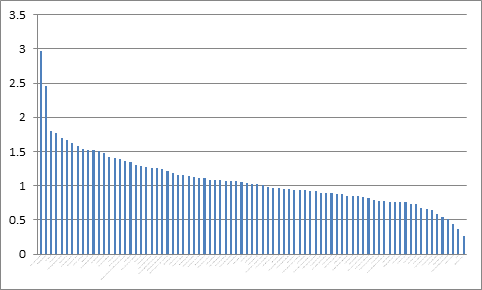 Source: CAUBO/Statscan Financial Information of Universities and Colleges Survey
In fact, a majority of institutions still have ratios above 1.0 (meaning they spend more on academic staff than on non-academic staff); it's just that some of the country's biggest institutions have ratios below 0.9, and they drag the average down considerably.
But that's still not quite the whole story.  Take a look at the top and bottom ten institutions on this measure:
Table 1: Top and Bottom Ten Institutions Based on Academic : Non-Academic Staff Salary Mass Ratios

Source: CAUBO/Statscan Financial Information of Universities and Colleges Survey
Looking at the left-hand column, the secret to spending less on non-academic staff seems simple: just be a small institution with no major science programs (Sherbrooke is an anomaly).  That makes intuitive sense if your hypothesis is that the big contributor to the growth in non-academic salaries is the growth of universities' research function.  The problem is, a lot of very similar universities are also in the right-hand column.  Ste. Anne and Emily Carr are practically identical to St. Boniface and OCAD – so why the enormous differences?  Royal Roads' and TELUQ's low ratios are easy to understand because of their reliance on IT – so too is Toronto, with its enormous research overheads.  But ENAP?  Trinity Western?  What's going on there?
The answer is, we don't know.  Much of the U-15 universities tend to cluster between .95-.75 on this measure, but apart from that, there doesn't seem to be a lot of rhyme or reason to how much institutions spend on academics vs. non-academics.  And yet it has a pretty big effect on institutions' bottom lines.  It's a puzzle worth trying to solve.