Not only is there strike talk at Laurentian, but there is also a strike in the air at Windsor (a one-day strike was held last week, but a full strike is promised for October 1st if no deal is reached).  Bargaining there began earlier this year, but for whatever reason, no progress was made in negotiations over the spring.  After a conciliator was unable to nudge the two sides closer together, the university was in the legal position to impose its offer on the faculty, which it did in early July. This was a canny piece of timing: by doing this in the summer, the university deprived the union of an immediate strike threat (because who cares if profs go on strike in summer?).
This was a rare case of a university playing hardball on timing; and though this may have wrong-footed the union, they've responded by making great rhetorical hay out of having a contract imposed on them.  Now, the strike is no longer about petty monetary demands, it's about the right to collective bargaining.  Yay, righteousness!  And that's a big bonus for the union, because if the strike was just about financial proposals, their position would be almost indefensible.
The union position is that the university's offer – 0%, 0%, and 3% over three years – is inadequate because staff can't be expected to accept wage increases below inflation.  While that's one way of framing the institution's offer, it glosses over the stonking amount of money the university is offering faculty through its Progression Through the Ranks (PTR) system (for a refresher course on PTR, see here).  Under the university's offer, every single professor (other than those with over 30 years experience) gets an annual pay rise of $2,550.  This isn't based on merit or anything, the way it is at Alberta or UBC or Waterloo, it's just for sticking around another year.  On top of that, they get 0%, 0%, 3%.
Now that doesn't translate easily into a percentage figure because $2,550 represents a different percentage for each professor, depending on their current pay. But let's take a stab at it based on known average pay by rank.  Current pay figures are unavailable (thanks for cutting the UCASS faculty salary survey, StatsCan!), but I do have them from 4 years ago – they've probably gone up slightly since then, but for giggles let's use them to take a look at what the university offer means if the PTR is included.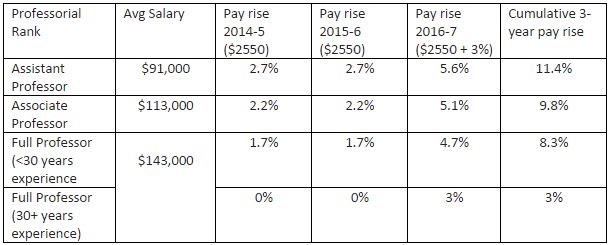 On top of that, there's something called the "Windsor Salary Scale" – a Windsor-only deal, in place for decades, which means that the Windsor salary scale always rises at the Ontario median.  Based on the past few years' deals, this would mean average pay rises of another 4% or so (15.4% now for assistant profs, if you're counting) – though it's hard to predict exactly, since we don't know what future salary settlements across Ontario will look like.  On the other hand, professors will also be asked to pay more into their pensions, what with returns being so meagre in our low-interest rate environment.  So let's call these two a wash and stick with the figures in the table above.
To summarize, this deal – which, recall, had to be imposed – will see nearly all faculty salaries rise by rates well above inflation (in the case of assistant professors, by a factor of two).  The only ones who will not see a rise equal to inflation are that tiny minority (the 30+ years crew) already at the top of the pay grid, and who in most circumstances will be earning over $150,000.
Remember, this is at a university in a region where first-year enrolment fell by 10% this year, and where the regional youth cohort (Windsor-Essex-Chatham-Kent) is set to shrink by 15% or so over the next six years – meaning the institution will receive even fewer tuition dollars, and will receive a declining share of total government grants budget, which, if we're lucky, will decline by only 3% in real terms over the next three years.
And still the union said no.