In yesterday's post, I dismissed the idea that administration was to blame for academic salary mass falling as a percentage of operating budgets, noting that the big areas of spending increase over the last two decades were scholarships, benefits, and utilities.  But it is still true that salary mass of non-academics rose more quickly than it did for academics.  Total academic salary mass went from $4 billion in 1992, to $5.5 billion in 2010, while "administrative" salaries went from $3 billion to $5 billion (all figures in 2011 constant dollars).  So in a sense, one could argue that some crowding out occurred.
But who are all these administrators?  Are there more of them, or are they just getting paid better than they used to?
Unfortunately, we have no datasets on non-academic staff numbers in Canada (heck, thanks to budget cuts, as of last year we have no datasets on academic staff numbers either).  What we can do, though, is track dollars by category to get a sense of what kinds of functions are receiving non-academic salary dollars.
Figure 1 – Distribution of Non-Academic Salaries by Function, 2011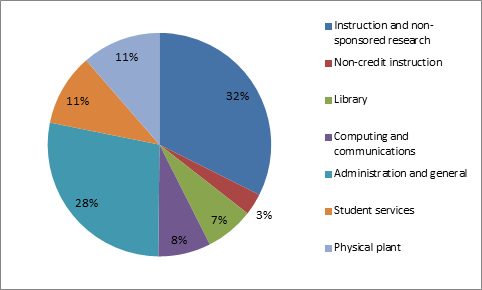 Of the $5 billion in non-academic salaries, the largest chunk (32%) is still spent under the rubric of instruction (e.g. lab technicians, departmental secretaries, teaching and learning centres, etc.).   Student services and physical plant (i.e. maintenance) employees make up another 11% each, or about $550 million apiece, per year.  IT workers are another 8%, library 7%, and non-credit instruction 3%.  Most of those salary categories are things that are relatively central to the process of education.  That leaves 28% – or about $1.3 billion – in what we think of as "classic" central administrators, the bogeymen/women of contemporary universities.
If we wanted to find "waste" in universities, we might look for it by looking at where non-academic salaries were growing the fastest.  This we do in Figure 2, below.  The left-hand column shows the share of the increase in non-academic salaries that each category received over the 1992-2010 period; the right-hand column shows the shares of spending each area had in 1992.
Figure 2 – Distribution of Increases in Non-Academic Salaries, by Function, 1992-2011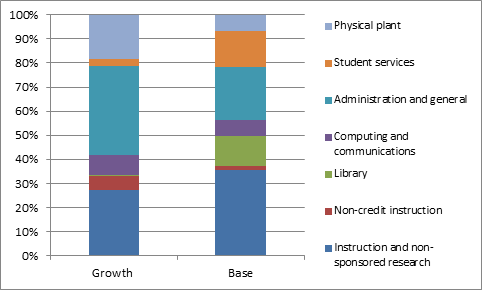 Figure 2 reinforces some traditional narratives; salary mass in central admin did indeed increase faster than for other non-academics.  But so too did salary mass in non-credit instruction, and in physical plant.  Total salaries in "instructional" areas (lab techs, etc.) fell relative to the total, but so too – and to a much greater extent – did salaries in student services.  Total non-academic salaries in libraries, meanwhile, literally did not increase at all.
Bottom line: There was "excess" growth in central admin salaries – that is, growth over-and-above its inflation-adjusted 1992 share, to the tune of $325 million.  Not nothing, to be sure, but a very long way from explaining the shortfall in academic salary mass.