Morning all.  Today, HESA is releasing a paper called "What We Ask of Parents: Unequal Expectations for Parental Contributions to Early-Childhood and Post-Secondary Education in Canada", by Jacqueline Lambert, Jonathan Williams, and me.  The gist of it is: "Holy cow, we ask parents to contribute a lot more to ECE than PSE – why is that?" You can click here to read the whole report, or you can see the short version as an op-ed in today's Globe and Mail.  What I want to show you in today's blog is the wonky background stuff, because we've done a couple of things in this paper that no one has done before.
The paper is really built around the key insight that you can create "expected contribution curves" for both early-childhood education (ECE) and post-secondary education (PSE). In PSE, you can do this simply by looking at the parental contribution tables embedded in student financial aid programs, and then add in the value of tax credits.  You've seen me do stuff like this before, but here's what it looks like for PSE:
Figure 1: Net-After Tax Expected Parental Contributions for Parents of Children in PSE, Canada 2015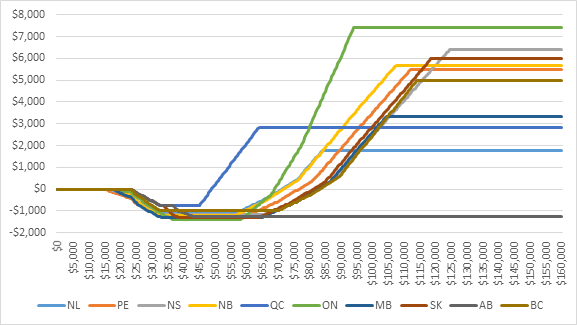 You can see pretty clearly what's going on here.  Below about $15,000 the expected contribution is $0 – no contribution required, but income levels are too low for any taxes to kick in, so no tax credits, either.   As income starts to rise, net contribution falls because of the value of tax credits.  But then, expected contributions from the student aid system kick in: at about $45,000 in the case of Quebec, and around $60,000 elsewhere (as a result, despite low tuition, Quebec is the place where parents are expected to pay the most, if their income is between $45,000 and $70,000).  The exception to this is Alberta, where no parental contribution is required at all.  I'll come back to that.
Eventually, this graph shows that contributions flatten out at a level equal to tuition and fees, which is the maximum possible contribution in this exercise.  Now, I'm pretty sure this will tick a lot of people off because at least some parents also support students for their living expenses, and we're excluding them, and hence making contributions look smaller than they really are.  This is true – and we do it in part because actual living expenses are quite variable and difficult to model.  But that doesn't mean we're exaggerating the difference between expected contributions to ECE and PSE – after all, parents of children in ECE are paying for their kids' living expenses too.  So we just call all of that a wash and focus on what parents are paying in fees to daycares and universities.
Anyways, for early childhood education you can draw very similar curves to the ones in Figure 1 by taking the average child care costs and applying the subsidies available to low income parents according to the provincial formula.  No one seems to have ever done this before in Canada, but it can be done.  You have to do it three times, because outside Quebec, prices tend to differ by the age of the child (infants are more expensive than toddlers, who are more expensive than pre-schoolers), but it is eminently doable.  Here's what the graph looks like for infants, after tax deductions are applied:
Figure 2: Net-After Tax Expected Parental Contributions for Parents of Toddlers in ECE, Canada, 2015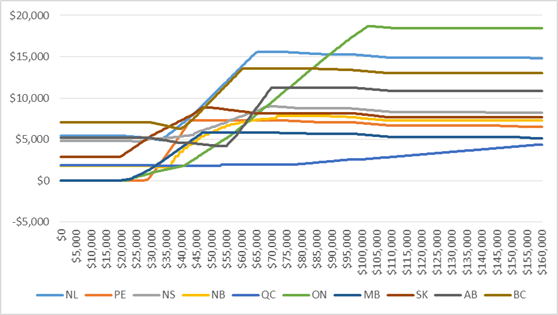 As you can see, the story for ECE contribution is quite a different from the one for PSE.  For infants, the minimum contribution is almost never zero.  In most provinces, parents hit maximum contributions at between $45,000 and $70,000 in family income – a level where parents of PSE students are usually not required to contribute a thing.  To say we as a country are inconsistent in the way we pay for these two types of education is putting it mildly.
Anyways, in the paper itself (well, in the appendices anyway) we generate province-by-province comparisons like this one below, for Alberta:
Figure 3: Effective After-Tax Required Contributions for Parents of Dependent PSE Students and Children in Child-Care, by Family Income, Alberta, 2015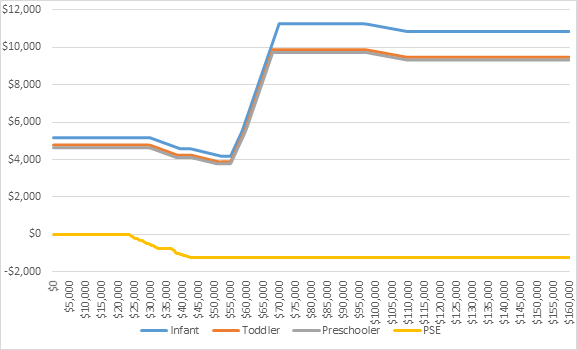 Yeah, this graph is pretty crazy.  This is what happens when you say there shouldn't be a parental contribution to post-secondary education, which Alberta did about five years ago.  At $75,000 in family income, the gap between required parental contributions for an infant and for a university student is a little over $14,000.  Madness.
And finally, by multiplying provincial values by each province's share of population, we can generate some national averages.  To wit:
Figure 4: Average Effective After-Tax Required Contributions for Parents of Dependent PSE Students and Infants in ECE, by Family Income, Canada, 2015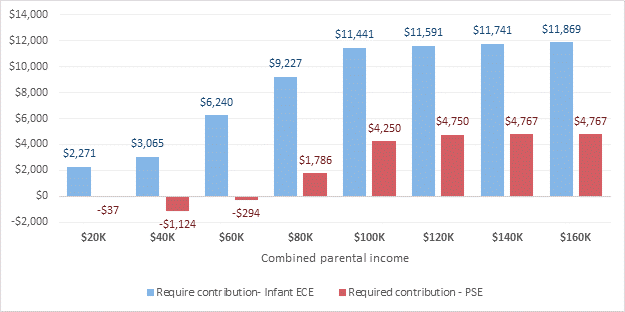 Fun, huh?
Tomorrow: the policy implications.