There was a great story by the Globe's James Bradshaw in July on the fate of the $17.5 Million of SSHRC's budget that was set aside by the Government of Canada for "business-related degrees" in the 2009 federal budget that didn't get the attention it deserved on account of coming out too close to the Canada Day weekend. Basically, it revolved around Rotman's Roger Martin's assertion that the program was an "abject failure" because it went to almost everyone except MBA students.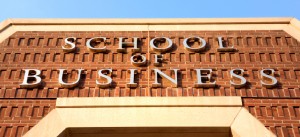 What apparently eluded the scheme's proponents was the fact that the "R" in SSHRC actually standards for "research."  And since MBAs tend not to do a lot of primary research, most of that money – not unreasonably – went to students doing "business-related" research in a variety of other fields.

What's most interesting to me about Bradshaw's story – apart from the obvious stuff about how the same community that whined about the PMO "directing" SSHRC to put aside a new pot of money for (horrors) business had no qualms at all about accepting PMO-directed money when it came under the label of the "digital economy" – is how the scheme's authors (including Martin) came to think their original plan was a good idea.
Martin, apparently, was under the impression that SSHRC operates as a giant slush fund for grad students, and the story implies that what Martin thought he was getting with the 2009 budget was a pot of money that MBA students could use to offset their ever-heftier tuition fees. It's easy to scoff at the naivete of this view, but it's easy enough to see where he might have got this impression; directly or indirectly, something like two-thirds of SSHRC's budget ends up with graduate students.
It makes you wonder: is SSHRC's primary purpose to relieve institutions of the burden of funding all those social science graduate students? If institutions had to fund their own graduate students, would we have anything like as many graduates students in the arts as we do?  Have we implicitly federalized the Social Sciences and Humanities, and if so, what should the implications of this be?