A couple of weeks ago we had a fun look at academic salaries. And I know some of you were thinking: "Why pick on profs? What about skyrocketing administrative salaries?" Fair enough – let's look at what happened to administrative pay in the last decade.
To stay consistent with earlier data on professors' salaries, I use 2001 and 2009 as reference years. This being a free email, I stick to easily-accessible, cost-free data – namely, salary disclosure information from the Government of Ontario. Since Ontario is 1/3 of the country and previous work has shown their academic salary increases to be very close to the national average, I believe it to be reasonably representative of the country as a whole.
Across the 18 universities for which there are data for both years, average presidential salaries rose by 56%, from $214,563 to $335,617. That's higher than the 43% average pay raise for full professors over the same period, but it's a matter of degrees rather than orders of magnitude. It's also marginally less than the 63% average increase in Ontario college presidents' salaries. There were, however, big variations within this group – presidential salaries more than doubled at Ottawa, Laurentian and McMaster, but rose only 5% at the University of Toronto.
Comparative Salary Rises in Ontario – 2001-2009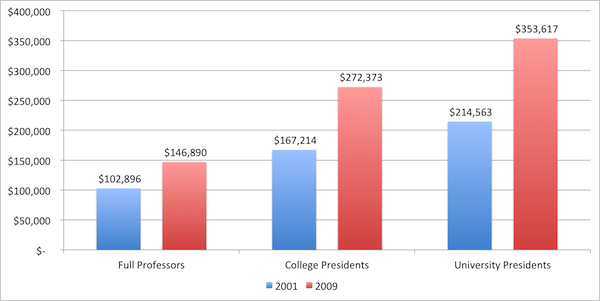 Another common complaint about administrative bloat is the increase in the number of vice-presidential positions. By my count, in Ontario in 2001 there were 93 vice-presidential positions, including AVPs of various stripes. By 2009, that number had increased to – brace yourself – 193.
That's not a misprint. It looks a little bit better in comparison when one remembers that Ontario academic staff numbers also grew by 28% in that same period – but not much.
That said, these jobs aren't springing out of thin air. Usually, they existed previously in some form or another, but with lesser names. Basically, having the letters "V" and "P" in a title is just something universities do when a management position starts costing over $135,000/year. Thus, a newly-created AVP, government relations, with pay of $150,000 isn't $150,000 in new salary, it's a title upgrade from "director" and a $50,000 bump in salary.
So,is there runaway growth in presidential salaries? They've certainly grown faster than professors' salaries, but it's a matter of degrees; the growth is 6% per year compared to 4.6%. Is there runaway growth in administration? Harder to tell. There's definitely been runaway inflation in titles – if there were a Central Bank for job titles in universities, the governor would be looking for work in Zimbabwe – but the net effect on salary mass is unclear.
A One Thought for another day, perhaps.