The meme on "underperforming universities" these days revolves around the idea that specific fields of study – usually Bachelor's degrees in the humanities – do not lead to good jobs.  But this depends in no small measure on what one means by a "good job", and over what time frame one chooses to measure success.
The graph below shows data from Ontario, six months after graduation.  Between 2003-2007, the employment rate of graduates in the labour market (i.e. excluding those who chose to study) bounced around between 92 and 94%.  In 2009, the rate fell by about 7%, to roughly 86%, more or less equally across all disciplines. Some fields of study were consistently below the average – specifically, fine arts, physical sciences (which seems to include biological sciences), and engineering.  Some fields of study were well above the average, notably education and nursing.  Humanities and social sciences ended up half way between the two.
Employment Rates of Ontario Graduates Six Months After Graduation in Selected Fields of Study, 2003-2009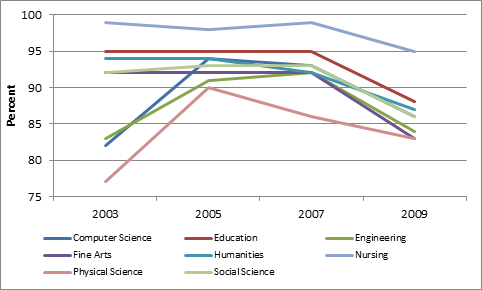 The science figure is especially interesting, isn't it?  Makes you wonder why there's an S in STEM.
Now, some of you will surely be scratching your heads at this point.  Aren't STEM graduates supposed to be in high demand?  How are both getting beat by Arts grads? Three quick answers. The first is that these figures exclude people who have gone back to school (unhelpfully, the Ontario data doesn't tell you how big a number this is).  Two is that Engineers may take longer for a job search because they are secure in the knowledge that their eventual job will pay pretty well (see below) – the pattern we see after six months is also the pattern after twenty-four, as the chart below describes. And three is that the picture does change a bit after two years.
Employment Rates of Ontario Graduates Two Years After Graduation in Selected Fields of Study, 2003-2009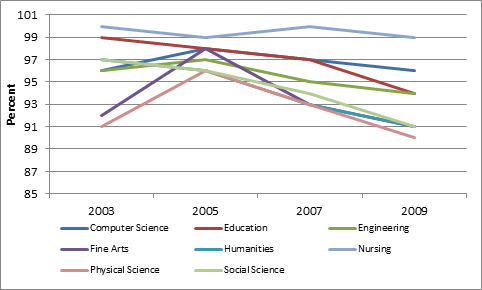 The classes of 2003 and 2005 had 2-year employment rates of about 96.5%.  That fell to about 95% for the class of 2007, and 93% for the class of 2009.  The fall was concentrated in education, humanities, social science, fine arts, and physical sciences; other disciplines saw less change.
Finally, there is the issue of income.  Here you see the real knock on studying in the humanities;  it's not that they don't get jobs – it's that they end up in some jobs that don't pay well.  Now, their incomes do increase about twice as fast as others between six months and two years (in the midst of a recession, they jump, on average, by 21%), but they start from a lower base.  An interesting point here, which I have made before, is that the difference in outcomes between students in the sciences and the social sciences is negligible.
Income of Ontario University Graduates Six Months and Two Years Out, Selected Fields of Study, Class of 2009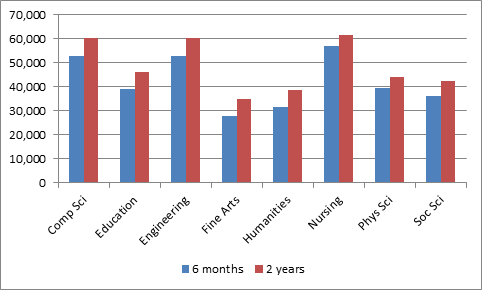 Clearly, jobs aren't the issue – students of all stripes find work soon enough.  The issue is the rate of return.  We should focus on that.