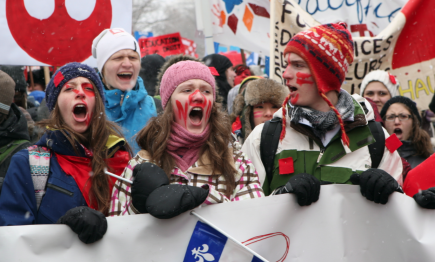 This afternoon, Quebec Finance Minister Raymond Bachand will present his budget, which will likely reiterate the province's plan to increase tuition by $325 annually for five years, starting this fall. The tuition debate has occupied much provincial politics this early spring. Striking students are taking to the streets on a daily basis. In one indefensible incident, a CEGEP student may have lost an eye after police tossed a "stun grenade" in his direction. The anti-striketuition symbol, the carré rouge, abounds, notably at the recent French-language film awards, the Jutras. A few weeks back a group of students draped the cross that sits atop Mt. Royal in red.
Unfortunately, the discussion has produced considerably more heat than light. Nowhere is this more evident than in the fundamental misunderstanding of how tuition and student aid work.
Two concepts are key to understanding how this policy will affect students and access to higher education in Quebec.
The first is known as "sticker price" – the amount of tuition that Quebec allows institutions to charge.
The second is "net price" – the amount students have to pay out of their pockets once financial aid is factored in.
Quebec will use 35% of the new "sticker price" revenue to boost the $400 million it already spends each year on non-repayable bursaries. These bursaries are provided to one-quarter of university students largely on account of their low incomes to reduce their "net price." The Quebec government implicitly agrees with the protestors that tuition increases can affect access for low-income students. So it's investing 35% of new tuition revenue, to make sure that no needy student pays a penny more in net price, as illustrated in Figure 1.
Figure 1: How Low-Income Students Will Pay Tuition in Quebec, 2011-12 to 2016-17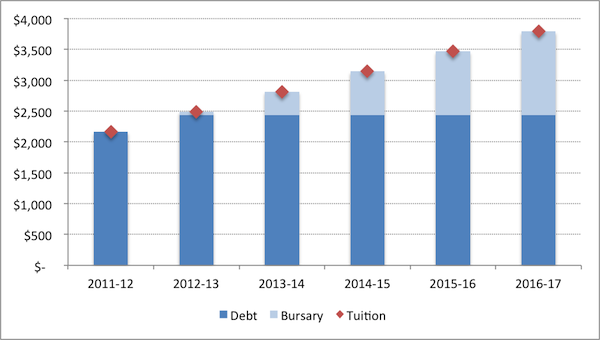 Note: The current maximum loan is somewhat higher than tuition fees. Student aid covers a portion of both educational and living costs.
Nobody wants to pay more for their education, and nobody wants to make education inaccessible. Yet the research on access suggests that the impact of tuition increase on access is relatively weak. Moreover, those most vulnerable to a tuition increase, low-income students, are fully insulated from the pending increase.
The only real point of disagreement is whether or not Quebec should continue to subsidize middle- and upper-income students who aren't price-sensitive at all. Students want to keep their windfall subsidy. Given Quebec's debt-to-GDP ratio of 49%, the tuition hike represents a sensible course, turning a regressive subsidy for the wealthy into a targeted subsidy for the less well off. That Quebec can do this during a period of fiscal belt-tightening without cutting university budgets is no easy feat.
Alas, donning a red square is chic. Understanding sticker price and net price is not.