The National Graduates Survey figures on debt for the class of 2010 were (quietly) released yesterday.  Unlike the employment data they released a few weeks ago, this data actually *is* comparable to results from previous surveys.  It is thus a good way to check on whether/how student debt is actually reaching "out of sight" levels.
So, let's start with some interprovincial comparisons.
Average Government Student Loan Debt at Graduation, Borrowers Only, By Province and Type of Institution, Class of 2010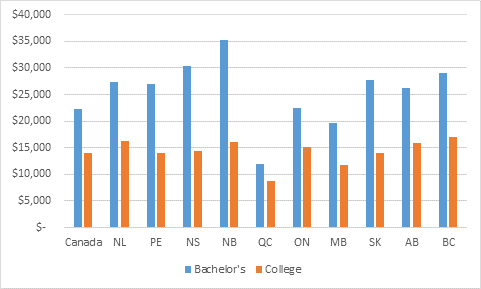 The national average government debt among borrowers was $22,300 for university graduates, and $14,000 for college graduates.  However, this conceals some pretty wild differences between provinces, especially at the university level where the provincial means extend from $11,900 in Quebec to $35,000 in New Brunswick.  Of particular interest is the fact that Ontario, the province with the highest tuition, actually has among the lowest levels of debt (indeed, between 2000 and 2010, it fell nearly 17% in real terms).
Looking at the data over time, the next two figures show how government student loan debt has evolved:
Incidence and Mean Amount of Government Student Loan Debt at Graduation, Bachelor's Degree Borrowers Only, 1982-2010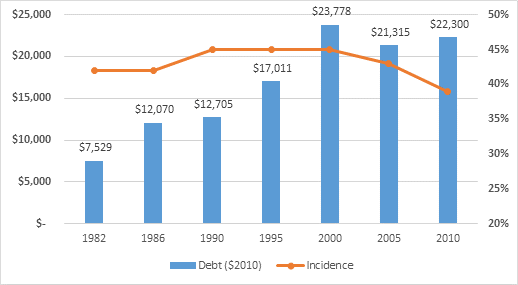 Incidence and Mean Amount of Government Student Loan Debt at Graduation, College Borrowers Only, 1982-2010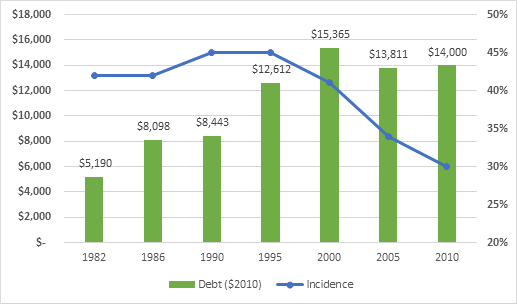 The takeaway here: despite steadily rising tuition, the percentage of students taking out need-based loans to finance their education hit a thirty-year low in 2010.  Debt was still high, but in real dollars was below where it was in 2000.
Now, while need-based government debt has been falling, non-need-based (or at least, not necessarily need-based) private debt has been rising.  Private debt is a mish-mash of credit card debt (which most surveys suggest is pretty small), private bank loan debt, and debt to family members – the last of these is presumably fairly soft debt in the sense that it is available on highly negotiable terms and there is a reasonable chance of some form of debt forgiveness.  Incidence of all forms of these debt combined has risen from 19% to 26% among bachelor's graduates since 2010 (16 to 22% among college grads), and average debt from these sources (among those with any amount of such debt) has risen from $13,170 to $17,700 for bachelor's graduates ($8,300 to $10,000 for college graduates).
It's not clear what to make of the private debt figures.  For the 15% of the student population that has both public and private debt, one assumes that the recourse to private debt is indicative that for this part of the student body, the existing student aid packages are inadequate.  This is a group we should be pretty concerned about.  As for the other 11% who only have private debt, it's hard to say what the issue is.  Why are they choosing private money over public money?  Are they actually fairly well-off, and hence ineligible for aid?  We simply don't know.
In any case, as a result of this increase in non-public debt, total debt is up very slightly, as we see in the figure below.  But while the averages of debt are up, the incidence is down – from 53% to 50% on the university side, and from 49% to 43% on the college side.  And this, recall, in a period where participation rates were growing sharply.
Average Total Debt at Graduation, Borrowers Only, By Type of Institution, Classes of 2000, 2005 and 2010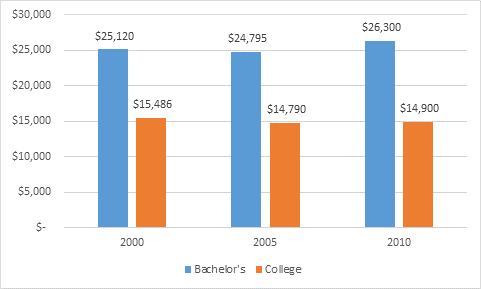 So: government debt down, private debt up.  Incidence of total debt down slightly, average debt up slightly.  Any way you look at it, the basic picture on student debt is right where it's been for the last decade.  And meanwhile, interest rates have fallen, and after-tax incomes have risen.
I know facts never get in the way of a good story, but: There.  Is.  No.  Crisis.  Period.