Recently, the Ontario Confederation of University Faculty Associations (OCUFA) published a comparison of American and Canadian academics' salaries.  Using Canada's National Household Survey (NHS) and the US Occupational Employment Statistics (OES) survey (which they described as being not quite apples-to-apples, but at least Macintosh-to-Granny Smith), they noted that average salaries for the combined college-and-university instructor population (the OES cannot disaggregate below that level) were $76,000.  In Canada, the figure was $65,000.  Hence, according to them, with the dollar at par, there is a 17% gap in academic pay in favour of the Americans… and much more of a gap if PPP is taken into account.
There are three reasons why this conclusion is deeply suspect.
First, OES and NHS are not even vaguely comparable.  One is a world-class instrument, based on administrative data collected at over 200,000 places of employment; the other: a self-report from a nonrandom sample of Canadians which has been widely panned as a steaming pile of horse manure.
Second, the actual numbers seem to be slightly off.  When I go to the OES, the category for 2- and 4-year post-secondary teachers (25-1000), I get $77,600.  The Canadian NHS files show that "university professors and lecturers" (category 4011) earn $87,978 and "college and other vocational instructors" (category 4021) earn $57,275.  Together, weighted, that's an average of $70,033.  So, a 10% gap, not a 17% one.
Third, since the two countries don't have identical proportions of instructors in the 2- and 4-year sectors, it's hard to tell how well these numbers reflect differences among university professors.  Neither do we have any sense of the proportion of part-timers and sessionals in the count, on either side of the border.  In other words, this comparison is based on a hodgepodge of non-comparable data, and proves absolutely nothing with respect to relative salaries of professors on either side of the 49th parallel.
More direct comparisons are possible.  Oklahoma State University has been doing an annual survey of salaries at Public and Land-grant Universities – the grouping of US institutions that look most similar to Canadian universities – for 40 years.  The figure below compares the 2012-13 OSU data with that of Canadian profs from Statistics Canada's last UCASS study (2010-11), as published by CAUT.
Canada vs US Professors' Salaries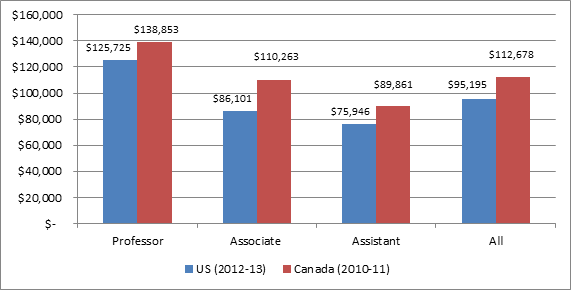 One can quibble with this graph, of course.  The Canadian numbers have probably gone up another 6-7% in the intervening two years.  The US numbers don't include the income professors get from summer research grants, which would probably add another 10% or so to their averages (see here for that calculation).  But effectively, there's about a 15% pay gap in Canada's favour, if dollars are counted at par, not a 17% gap the other way.
Naturally, one could get into arguments about purchasing power parity, living standards, and the like – that's all fair game.  What's not fair game is using a set of bad statistics when better ones are available, just because the bad data happens to better serve your cause. You'd think an association representing academics, of all people, would know that.