I was doing some random websurfing the other day and I came across the BC Student Outcomes Page, which makes freely available an absolute cornucopia of data on its graduates.  BC has a seriously decent survey set-up, in that they do surveys of each graduating class, every year – universities, colleges, apprenticeships, you name it.  Actually, it's probably overkill, but for data nerds like me it's absolute heaven.
Anyways, BC surveys all its graduates between 9 and 20 months after graduation (not ideal, I know, because a lot can happen in that period), and asks them about their satisfaction with their program, how they rate the usefulness of the skills they gained, and their employment status.  Given all the talk going on about shifting labour markets, and the need for greater emphasis on skills training, yadda yadda, I thought I would line up the combined results for the 2009, 2010, and 2011 surveys – that is, the years that cover the recent period of elevated unemployment – to see how people with each of the three credentials rated their education.  (DataBC released the pre-compiled results, here.)
First, satisfaction: how happy are Bachelor's graduates, Diploma/Associate Degree/Certificate graduates (which, for the sake of convenience, I'll call "Sub-Bachelor's" graduates), and apprenticeship graduates, with the education they received?  Well, the answer to that question is so dull I'm not even going to post a graph (lest I be accused of doing this).  Across the board, 94% said they were satisfied or very satisfied.  The only sub-group that stood out were Bachelors-level students in Education, where the percentage was 89%.
The percentage of students saying they gained useful skills and knowledge is a bit more interesting.
BC Graduates Rating Knowledge/Skills Received in Their Program as "Useful" or "Very Useful", By Level of Credential, 2009-2011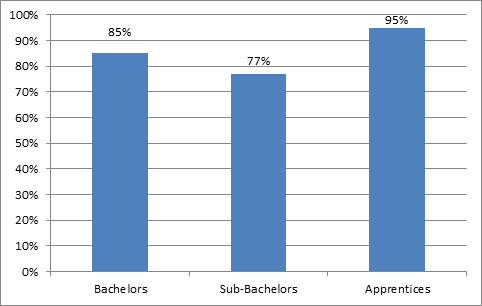 That apprentices are most likely to rate the knowledge/skills obtained in their programs as being useful is unsurprising, but the other two sets of numbers are more interesting.  In Bachelor's programs, all programs except Arts/Science (78%) and Visual/Performing Arts (81%) are in the high-80s or low-90s.  In sub-bachelor's program it's a similar story, with General Arts and Science (53%) and Visual/Performing Arts (63%) pulling down other averages, which are in the high-70s to low-90s. Takeaway: provision of useful skills in BC colleges is pretty uneven.
Now, here's the killer stat: unemployment rates.
Unemployment Rates of Recent Graduates, By Level of Credential, 2009-2011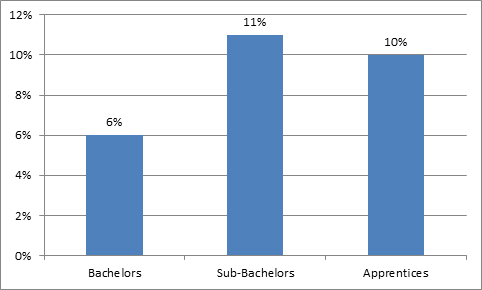 Yes, really.  Break it down even further and you get even more interesting numbers: Visual/Performing Arts BAs – 8%; Arts and Science BAs/BScs – 9%; Construction trades apprentices – 11%.
Now, it's great – obviously – that people are taking apprenticeships and skilled trades more seriously these days.  But this meme about how undergraduate degrees are inferior to other forms of education in terms of skills and job outcomes?  It's factually incorrect.  It's got to stop.