Every once in awhile, you'll hear folks talking about the scourge of youth unemployment.  If you're really lucky, you'll hear them describe it as a "crisis".  But how bad is youth unemployment, really?
Well, the quick answer is that you can't really separate youth unemployment from general unemployment.  As Figure 1  shows, one is a function of the other.
Figure 1: Youth Unemployment Rates, 15 and Over vs. 15-24 Age Groups, Canada, 1976-2015 (Source: CANSIM 282-001.  Seasonlly-Adjusted)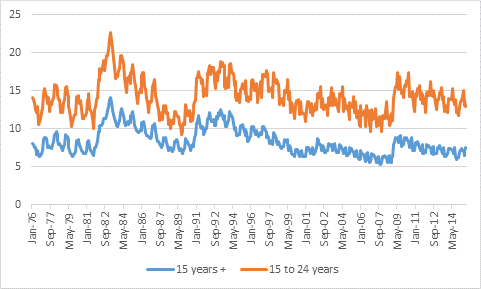 As Figure 1 also shows, compared to most of the last 40 years, youth unemployment is currently fairly low.  In the 476 months since the Labour Force Survey began, it has been lower than it is today only 29% of the time.  If this is a crisis, it is of exceedingly long duration.
Now, what some people get upset about is the fact that youth unemployment is "twice the overall rate".  But is that really historically unique?  Figure 2 shows the answer.
Figure 2: Ratio of 15-24 Unemployment Rate to 15 and Over Unemployment Rate (Source: CANSIM 282-001)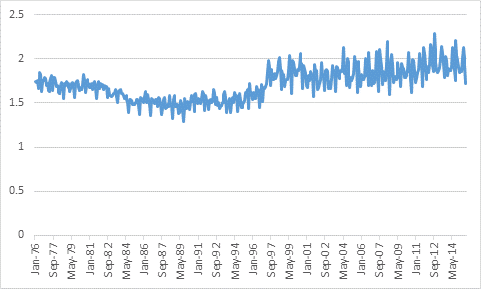 So, there are two things here on which to remark.  The first is that 2:1 isn't an immutable ratio: it has changed over time, most notably in the mid-90s when it increased significantly.  The second thing is that the ratio is a lot more seasonal than it used to be.  It's not entirely clear why this happened.  I had thought initially that it might have something to do with increasing PSE participation rates, but that doesn't seem to be the case.  A mystery worth pursuing, at any rate.
In any case, we should also ask: how does Canada look in comparison to other countries?  In Figure 3, I show the ratio of youth unemployment to overall unemployment in various countries.  Canada's current ratio – about 1.96 – is not world-beating, but significantly better than the OECD average (2.2). It suggests that the question of youth employment ratios is actually something all economies – with the exception of the Netherlands and Germany, perhaps – deal with.
Figure 3: Ratio of Youth Unemployment Rate to Overall Unemployment Rate, Selected Countries (Source: OECD)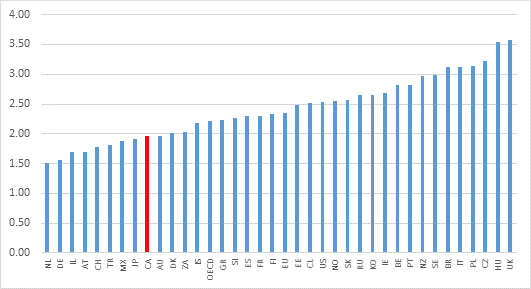 To get right down to brass tacks: workers gain value with experience.  By definition then, young workers are, on average, less valuable than older workers.  This is the reason why they have trouble getting hired.  And this is why, in the end, the only way to bring down youth unemployment is to give them more value to employers; which is to say, they need more job-ready skills.
Could we do better than we are doing?  Yes, of course.  But even the best countries in the world aren't doing much better than we are.  So, let's work on this problem, but maybe tone down the rhetoric about the its extent.