Basically, Canadian higher education programs can be divided into two types.  First, are programs that must be accredited, and where graduates' ability to work in their field is tied to accreditation (e.g. Law, Medicine, Engineering).  These programs start with desired outcomes, and work backwards to make sure that graduates have the skills required to meet professional certification.  Second, there are the Arts and Sciences, which more closely resemble a free-for-all, in which curriculum is driven at least as much by faculty research interests as by any sense of ensuring students graduate with a coherent body of knowledge and skills.
(Yes, yes, there are in-between cases, like business, where accreditation occurs but is not tied to professional practice, and so isn't quite as rigorous on the outcomes side. Leave these aside for the moment.)
It wasn't always this way.  Back before World War II, Arts and Science degrees had much more standardized curricula.  They weren't by any means designed according to 21st Century learning outcomes-lingo, but a lot of thought did go into what specific body of knowledge Arts students would master.  It was only in the 1950s and 1960s that the smorgasbord approach to arts education became standard (a story which is entertainingly told by Louis Menand in his book, The Marketplace of Ideas).
But it doesn't need to remain this way.  There's actually a lot that Arts can learn from some of the regulated professions, in particular from medicine where Canadian curriculum is considered one of the world's best.
Take a look, if you will, at  something called CanMEDS.  It's a curriculum framework that applies to  the residency training of all the medical specialties under the auspices of the Royal College of Physicians.  The College started by working out what kind of people they wanted doctors to be.  What they decided was that, in addition to being a medical expert, it was important for doctors to play six other roles – that of: i) communicators, ii) collaborators, iii) professionals, iv) managers, v) health care advocates, and vi) scholars.  All medical residency training since 2005 has incorporated not just training to those ends, but also frequent assessment activities as well.  And it's so well-regarded internationally that countries like the Netherlands (no slouches in professional education) have adopted it wholesale for their own medical training.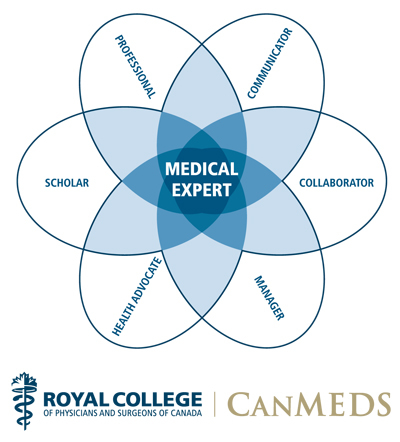 Now, there's absolutely no reason one couldn't structure an Arts curriculum the same way.   The expected role graduates should play wouldn't be the same, obviously (though keeping subject matter expert, communicator, and collaborator seem like no-brainers to me).  Then you'd work to build-in activities and assessment for all of these intended roles/outcomes in every single course.  And if you couldn't do that (it would likely be difficult in larger classes), you'd find ways to create new mandatory modules that develop and assess more specific competencies.
There's no really good reason – other than inertia and intransigence – why it couldn't work.  And the upside would be enormous.  Students who graduated from such a program would have actual tangible evidence of skills and competencies, as opposed to all the "we're-not-sure-how-but-boy-the-Arts-are-important" hand-waving we do now.
Who's first?