Last week we looked at likely paths for government funding in the big four provinces.  Today, I want to look at how that might translate into actual changes at institutions.
The outlook for government funding, if you'll recall, looks like this:
Figure 1 – Nominal Non-Health Dollars Available by Province, indexed to 2013.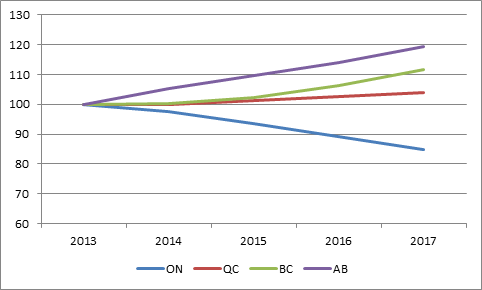 But governments only account for about 54% of total revenue.  Students make up 39% and "other" makes up about 8%, so to look forward, one needs to look at these other two sources as well.
It's hard to discern a historical pattern for "other revenue" (mostly because endowment income rises and falls like a yo-yo), so let's just assume for the sake of argument that it will grow at 4% for the next few years.  Tuition is more predictable:  Ontario has locked in 3% annual increases for the foreseeable future, while Quebec's tuition will be linked to inflation (roughly 2%).  Western provinces are more volatile on policy, but a reasonable guess is that BC's path will be similar to Quebec's while Alberta, being more populist and with cash to spare, will average something just below inflation (say, 1% p.a).  Of course, aggregate tuition dollars have very little to do with average tuition limits, but for the moment let's assume no increase in student numbers.
So, add all those dollars together and what do we get? 
Figure 2: Net Income Projections for Post-Secondary Education, by province, to 2017-2018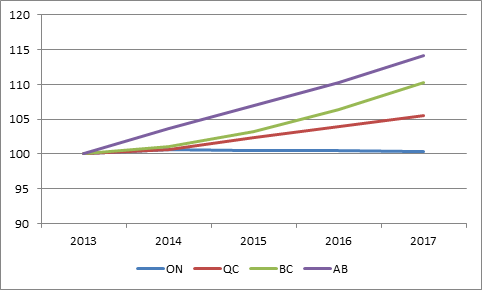 That's a little better, no?  See what a little tuition can do?
Still, this is only income. We still need to look at expenses.  Here, let's assume that universities are able to keep their operating budget increases to 3% per annum (tight but do-able).  In that case, assuming no enrolment growth, institutions in Alberta should have a very small surplus in 2017, while Ontario institutions will face a collective deficit equal to 11% of expenditures, or around $950 million.
Figure 3: Budget Gap Projections, to 2017-18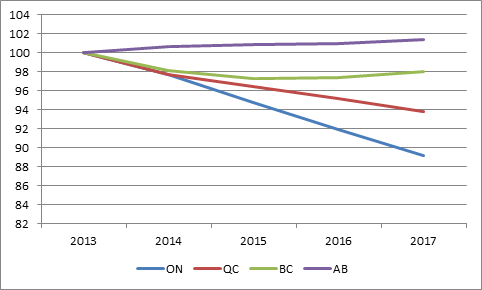 Now, clearly, that Ontario scenario can't actually happen; long before institutions get to that point, they will cut spending and find more revenue.  What figure 3 really represents is the size of the fiscal gap institutions will need to close over the next few years.
There are many ways to fill such a gap, but the main ones are wage freezes, hiring freezes and increased international enrollments.    But $950 million is a big gap to fill.  By my back-of-the-envelope reckoning, it's equivalent (roughly) to a combination of a 4-year pay freeze and a 50% increase in international students.  Do-able but painful.
There is of course a very simple way to make most of these problems go away: just give institutions a little more room on domestic tuition. Unfortunately, that's probably too sensible a solution for our times.