As I noted yesterday, much of the talk about skills shortages in Canada is data-free, and factually-challenged.  What, for instance, are we to make of claims that we have a huge shortage of people in the construction trades, when even a simple look at Labour Force Survey data tells a very different story?
Unemployment by Industry, 2007-2012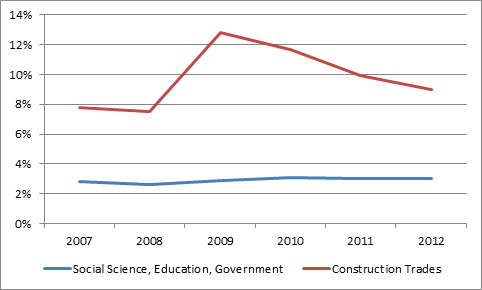 Yeah, that's right: workers in the social sciences, education, and government fields (mostly university graduates) have unemployment rates of about 3%, compared to 9% for workers in the construction trades.
But what about those huge pay increases we've been hearing about for skilled trades?  Well, they do exist – if you happen to be part of the 1.5% of the total workforce involved in resource extraction.  Otherwise, wage increases in trades pretty much mirror wage increases in the wider economy.
Wage Growth by Industry (selected industries) 2003-2012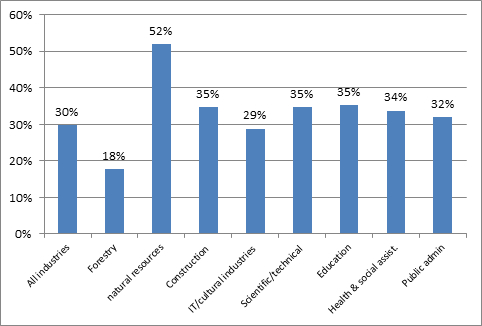 Now, none of this is to deny that in some parts of the economy (skilled trades and health care, in particular), in some provinces (mainly Alberta and Saskatchewan), skills shortages do exist, and the inability to fill these positions creates a bottleneck to growth in some booming industries.  But, then, what's the right policy response?  I haven't got the answers, but I do have some thoughts:
1)      Be skeptical about "better labour market information" schemes.  Do we really think the unemployed don't know that things are booming out west?  The problem is that retraining for in-demand jobs takes 3-4 years, by which time they may no longer be in-demand
2)      Be very skeptical about financial incentive schemes.  In February's Policy Options, Ken Coates and Rick Miner proposed giving scholarships to students who go into particular, "in-demand" trades.  This, frankly, is bizarre: if jobs are going begging, shouldn't wages rise to attract demand?  What business is it of government's to subsidize particular occupations?
3)      Focus on Completion Rates.  There's much talk about needing to "make trades more attractive".  But new entrants to trades are close to all-time highs – more than double the rates of the late 90s.  As a recent CGA report cogently noted, the problem is that new apprentices aren't finishing their programs.  Solve that, and the larger shortage problem is solved, too.
But my final thought is this: why can't Alberta and Saskatchewan deal with this on their own?  Why is this a federal issue?  Cynics on the left may push the idea that it's because Harper hates educated humanists, etc, etc., but I think it's simply that this government listens to western business.  If they have a problem, this government will bend national policy to suit, just as previous ones bent national EI policy to suit Quebec and the Atlantic.
That's Canadian federalism for you.