Yesterday, I wrote about the results of our study on work-integrated learning, where we reported on the results of a survey asking students to tell us how much they thought their various jobs helped them in terms of reinforcing concepts learned in class, obtaining workplace skills and career preparation. In particular, I emphasized that while co-op programs came more or less top of the pack on these measures, two other types of employment were found capable of delivering very similar kinds of results and that some important policy implications followed from this.
The first of these employment types were summer jobs where students indicated that their field of study was the only or the best possible field for the job they held. These jobs, on average, were rated by students as being slightly better than co-op placements in terms of reinforcing learning and career preparation.
This poses a bit of a challenge to the idea of work-integrated learning, because it suggests that, provided they can get study-related jobs in the first place, students are capable of doing the integration of working and learning on their own. Co-op, in other words, may be a superlative way of getting students into study-related temporary jobs, but it's not as clear that the institution has much role in actually helping students make sense of their work experiences.
The second type of work that had surprisingly good results in our survey were RAships and academic fieldwork. These aren't always described as being "work-integrated learning" because they can be seen as too theoretical and don't involve outside employers (i.e., the "real life" elements that are sometimes thought of as being key to the success of programs like co-op). Yet their benefits are of a similar order of magnitude.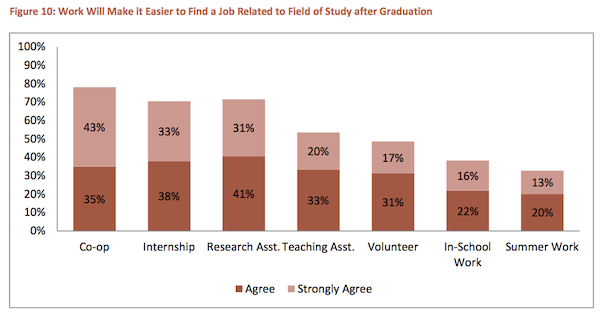 What's important about this is that it opens up the possibility for more co-op like experiences in fields of study where co-op has had difficulty taking root. Co-op isn't simple to implement – even if it's only implemented superficially, it requires a wholesale reorganization of the academic calendar that few institutions are willing to implement. But RAships and academic fieldwork don't require the same kind of disruption and can be implemented across more or less all fields of study.
Co-op is too good an idea to keep it restricted – as it too often is – to just a few fields of study. If institutions can, at relatively low cost, provide more students co-op-like benefits by making RAships more widely available, it must be worth a try, no?