I've made a few key points over the last couple of days:
1)      Canadian Universities will be lucky if they keep being able to increase their incomes by 3% per year, holding enrolments constant.
2)      The kinds of salary settlements we have seen recently at Canadian universities, if allowed to continue, will eat up easily 70-80% of that income, maybe more, leaving precious little left over for IT, infrastructure, etc.
3)      It's not a problem of administrative bloat.  The ratio of academic salaries to non-academic ones hasn't changed in over a decade.
To put it bluntly, this isn't sustainable.  Things have to change.
Could the solution be on the revenue side?  Certainly, that's part of the current problem.  Over the past two years, things have been pretty dire for higher education, with institutions only receiving about 0.45% per year in government funding increases.  That might improve a bit in some provinces over the next year or two, but my guess would be that both Ontario and Quebec will see significant cuts in the 2015 budget cycle, once they've both had elections.  So that's not in the cards.
Ask students to pay more?  That would make oodles of sense in many places (especially Alberta, BC, and Quebec), but it's a tough sell in a recession.  To the extent this is possible, it will be for professional Master's programs, which are going to spread like mushrooms.
Admit more students?  Well, that would work in some places, but not east of the Ottawa River, where things are drying up.  International students are always a very viable alternative, though it's not clear that every institution is equally suited to acting (as Brad DeLong recently wrote in a delightfully bitchy post about the University of California) as finishing schools for the superrich of Asia.
That leaves expenditure – the largest and fastest-rising bit of which is salaries.  And here there are only three options: cut jobs, cut salaries, or some combination of the two.  Tenure limits institutions' ability to do the former (to academics, at least), so that suggests that restraint on the salary side is where the action is going to have to be.
It's not even a matter of cutting salaries.  It's about getting the rate of salary increase back down to where it historically was for most of the 70s, 80s and 90s.  The 2000s saw an historically unprecedented rise in professorial salaries, as shown by Figure 1:
Figure 1: Median Academic Salaries, Canada Real $2012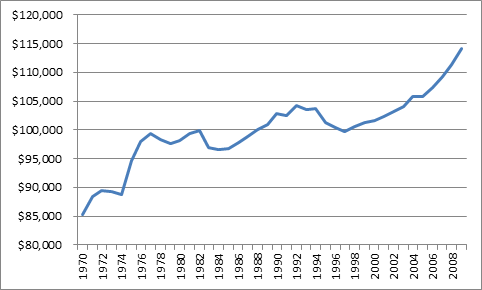 More relevant for university finances was the fact that average salaries were increasing even faster than the median during the 2000s – 18% in real dollars vs. 11% for the median.
Figure 2: Average Academic Salaries, 2001-2 and 2009-10, in Real $2012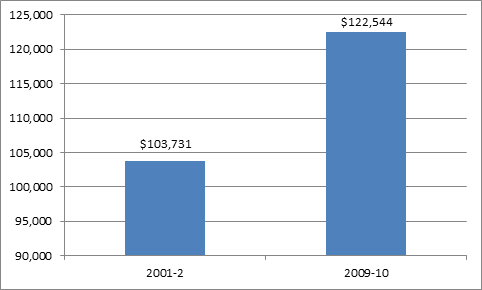 You know the good old days everyone talks about?  Maybe they were good precisely because salaries weren't cannibalizing the rest of the budget.  Something to think about, anyway.